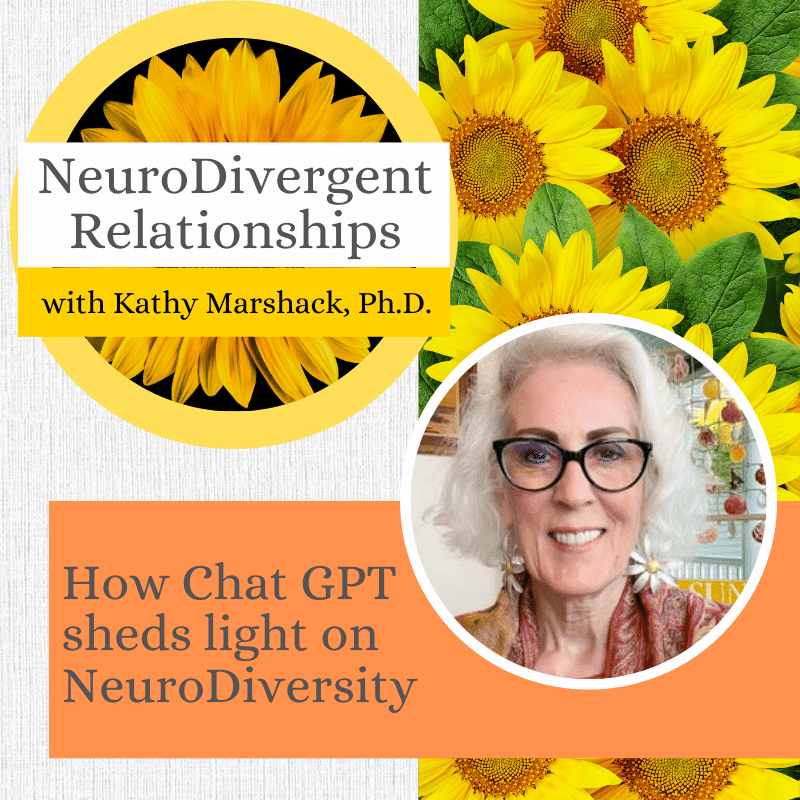 Recently, one of Dr. Kathy's NeuroDivergent clients took to Chat GPT to ask how to navigate interactions in his relationship with a NeuroTypical individual.
While some of the advice and tips it gave are great, many of what it recommended is not possible for a NeuroDiverse individual, such as interactional conversations or paraphrasing.
In today's episode Dr. Kathy discusses whether or not Chat GPT can be used as a modern day translator for a NeuroDivergent relationship.
---
Want to skip ahead? Episode Highlights
1:10 Defining NeuroTypical and NeuroDiverse
4:30 Listening with Intention or "reading between the lines"
7:35 Asking Chat GPT questions about NeuroDivergent relationships
18:39 An interaction with Bianca (Dr. Kathy's daughter)
22:14 Trying to understand how to paraphrase
24:05 An Interactional connection
25:53 Chat GPT probably can't teach you how to connect in a NeuroDivergent relationship
---
Check out Dr. Kathy's latest book, "Empathy is More Than Words: Introducing Groundbreaking Tools for NeuroDivergent Relationships" 
➡️ Follow Dr. Kathy on Facebook
➡️ Find Dr. Kathy's Website Here
➡️If you're looking for resources for NeuroDivergent relationships, check out Dr. Kathy's FREE Mini-Course