Video Therapy or Old-fashioned Sit-on-the-Couch Therapy?
Video therapy isn't just a fad or merely convenient. It offers a relaxing way to connect with your psychologist from the comfort of familiar surroundings. It helps me to know you better too, since you are free to be the real you when you call in from the privacy of your own place or space.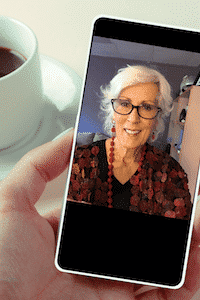 On the other hand, sometimes the most profound changes take place in the office, where there is no mistaking the influence of face-to-face energy. For Old-fashioned Sit-on-the-Couch therapy, I meet with clients in the Portland/Vancouver area in my office conveniently located near the International Airport in East Portland.
After forty years of experience in marriage and family therapy (working with complex relationships), my expertise is sought out by people locally and worldwide. Fortunately, even if you do not live near me or can't use your insurance for video therapy, I offer another option, private Video Education sessions (in increments of 20 minutes), via the same HIPAA compliant video software I use for all of my video conferences. If you have questions regarding my books, research or other publications, this is the best option for you.
I have years of experience with all three modalities, so whatever your choice, you will know you are held in the highest respect. Please choose what works best for you. Depending upon your need, we can do any combination of video or in the office sessions.
I accept most insurance plans, but it is always a good idea to check with your insurer for what specifically is covered.
***Video Therapy is provided exclusively for residents of Oregon and Washington. Video Therapy may be available to residents of other states and countries (including Ex-Pats), but you will need to check the laws in your jurisdiction. Check Video Education for another option if you cannot use Video Therapy.